Planning a summer wedding at Lovers Key State Park becomes less stressful when you work with the professionals at Lovers Key Beach Weddings. These experts have years of experience in creating fantasy beach weddings. These experts say that there are several trends that you will want to keep in mind for your summer 2017 wedding.
Choose two bold colors to use throughout your wedding and reception area. For example, Help guests know that you are planning a fun wedding by using splashes of the colors on the invitations in unexpected ways. Bold yellow table linens and bright orange flower centerpieces create beautiful reception tables that will leave your guests talking about how beautiful your wedding venue was decorated. Using more than two, however, can leave the space looking messy without a central theme.
One of the reasons that many couples choose Lovers Key State Park for their wedding venue is they want a laid-back venue. Continue embracing this vibe by choosing laid-back music for your wedding and reception. Instead of a formal buffet or sit-down meal, the park is the perfect place for a picnic after saying "I do." Help set the laid-back vibe for your wedding by arriving or departing on a bicycle.
More couples than ever before are choosing natural centerpieces. For example, use starfish and various seashells in the middle of the table if you are planning the reception on the beach. Then, continue the laid-back vibe by using burlap ribbons in your chosen bold colors. Alternatively, to incorporate moss and branches in their centerpieces.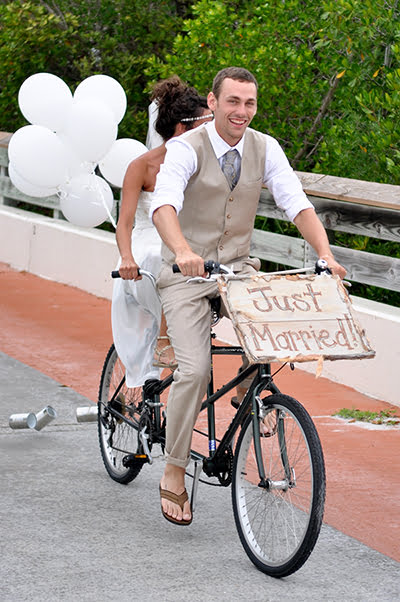 Fruit-Inspired Wedding Cakes
Summer is the perfect time to use fruit in your wedding cake. If you want a traditional white wedding cake, then consider having the baker decorate it with sugar-coated grapes along with gold-dusted pears and figs. Strawberry shortcake-style wedding cakes are more popular than ever before. Alternatively, consider citrus-infused fillings for your wedding cake.
Eco-Friendly Wedding Favors
Many couples choose Key Lovers State Park for their wedding venue because they care deeply for the environment. Consider giving your guests small trees that they can plant when they get home. Organic or fair trade loose-leaf teas or shade-grown organic coffees in recycled paper pouches is a gift that everyone will enjoy. Alternatively, remember the birds on your wedding day by giving guest birdseed favors that they can hang up in their yards.
Key Lovers State Park is a terrific place to host a summer wedding. Give us a call today so that we can help you plan all the details.
(239)-765-7788
8700 Estero Blvd,
Fort Myers Beach, FL 33931