No matter what month you decide to have your destination wedding, it should be a reflection of your relationship and each of you as individuals. This day belongs to the bride and the groom, and you should be able to incorporate whatever details you choose. You don't have to get married on Valentine's Day or even in the month of February to use love and Valentine's Day as a theme for your big day.
Perhaps this holiday has always been your favorite, or maybe it was when you had your first date. For whatever reason Valentine's Day holds special significance to you or your spouse, feel free to use it as a theme or inspiration for your wedding, no matter what month you decide to tie the knot. Here are some ideas about how to use a Valentine's Day theme in any wedding.
Since flowers have long been symbols of love, marriage, romance, affection, and fertility, it is no wonder why they play such a significant role in a wedding. While red roses are typically associated with Valentine's Day, many other flowers in red, white, pink or even purple can be used as a nod to this holiday. Peonies, ranunculus, tulips, and even gerbera daisy's will all give your destination wedding a romantic Valentines Day feel. You can also talk to your florist about other romantic Valentine's Day touches that can be added to your bouquet and other floral arrangements such as fake pearls shaped like hearts.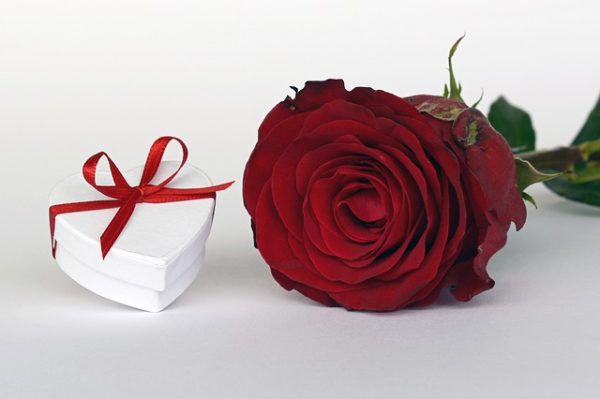 If you want to embrace Valentines Day as a theme, choose colors in line with the holiday such as red, pink, black, and white. Your bridesmaids can wear these colors, and you could even select a wedding gown that uses these colors or is a blush color. You may also want to include hearts, arrows, and even cupids in your reception decoration. If you are getting married on the beach, you can even have hearts and arrows drawn in the sand where your ceremony will be held.
Consider giving your guests small boxes of chocolates, similar to those that are typically given on Valentine's Day. You could even have the box personalized with your names and date. For guests of honor, you could even include a personalized note thanking them for coming and telling them how much their presence means to you on your big day. In place of a wedding cake, you could have french pastries or chocolates for your friends and family to enjoy. If you prefer a traditional wedding cake, you could even use Valentine's Day themed cake complete with hearts, arrows, and typical Valentine's Day colors.
Keep in mind that you can go all out and use all of these suggestions and more to celebrate your love or you can pick and choose one or two details to give a hint of Cupid for your big celebration. Our wedding planner at Lover's Key Beach Weddings have the vision and experience to make your wedding all that you envision it to be.
(239)-765-7788
8700 Estero Blvd,
Fort Myers Beach, FL 33931