Are you considering a destination wedding? Nearly one-quarter (24%) of all couples who are tying the knot travel to do so. It's safe to say that many of these choose a beach wedding venue, for its beauty and simplicity.
If you intend want to get married while feeling the sand between your toes, here are some tips to help you locate the perfect venue!
1. Wedding Planner vs. Going it Alone
It's possible to arrange your own wedding on a public beach, but it's not ideal. You can't just show up, plunk some chairs in the sand, and get hitched. Instead, you'll have to pay for a permit to use the space.
Other drawbacks to going it alone? First and foremost, it's – well, it's complicated. You'll need to arrange everything yourself, from the trellis and seating, to the photographer and sound system.
When you choose a beach wedding venue where you can work with a wedding planner, you have a bit more assurance through their experience. You'll also be able to hand off some of the logistical considerations, like furniture, to the venue.
2. Factor in the Elements
A beach wedding can be extraordinarily beautiful, as long as the weather cooperates. Have a backup plan in case the forecast for your wedding day is stormy.
You'll also want to take into consideration the time of year, and time of day, for the ceremony. Getting married when it's 90 degrees and sunny isn't ideal unless you and your intended are true beach bums. Choose a sunset wedding and consider getting married in a shoulder season when temperatures are usually more moderate.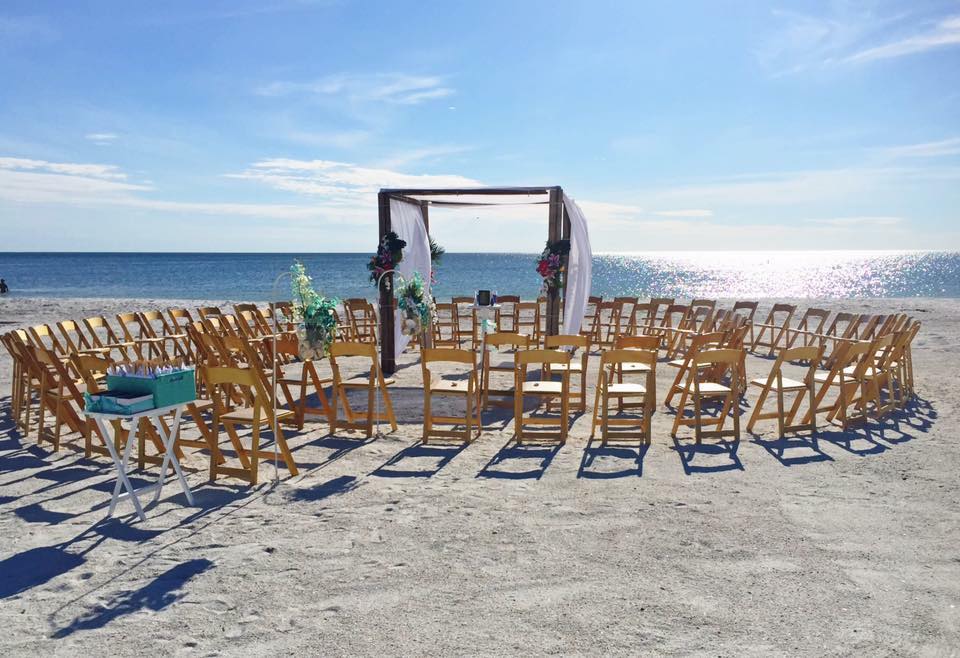 Opt for a more casual ceremony if you're getting married on the beach. Elaborate wedding gowns and high heels might fulfill your vision of a fairy-tale wedding, but they're not especially compatible with a beach wedding.
Some venues will provide walkways so that you and your guests don't have to slog through the sand. If any of your guests have mobility issues or use a wheelchair or walker, a temporary walkway is an absolute must.
Parking can be an issue, as well. A venue that offers tram service to and from the site can be a boon.
Remember that a beach wedding venue can be windy, too. Therefore, it may be hard for guests to hear you exchange vows. You will want to use a portable sound system and microphone, to make sure that every word, and every note of the processional, can be heard.
Again, many venues will provide this as part of the package.
5. What's It Going to Cost?
The average wedding in the United States now costs just over $25,000 – and that figure doesn't include travel costs. Unless you live within driving distance of a beach, your guests will have to fork over money for airline tickets and accommodations.
Don't let that discourage you from having the beach wedding of your dreams, though. Compared to some indoor venues, a beach wedding venue can be inexpensive, so you and your intended can help offset guests' travel costs.
Hotels often offer discounts for group rates. An off-season wedding can also keep costs low.
Ready to Start Looking for Your Beach Wedding Venue?
Lover's Key Weddings will help you plan a stunning ceremony and/or reception. Give us a call today! Whether you want a fun, tiki-themed wedding or a sophisticated sunset ceremony, we're here to worry about all the details – so that you can relax and enjoy your big day!